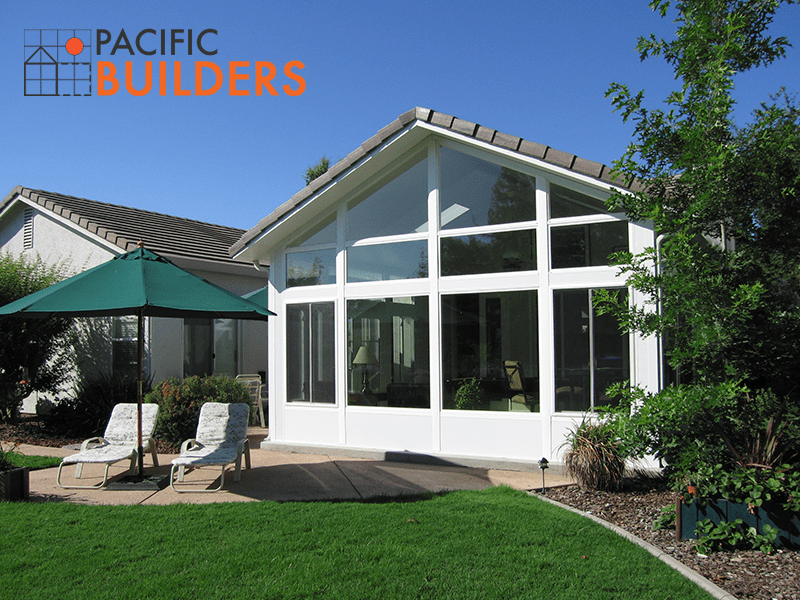 Welcome to part two of two.  To ensure that you are able to clearly communicate with your local Sacramento sunroom Builder, we have continued to provide helpful sunroom development vocabulary. For additional aid please call Pacific builders; we have recruited the best sunroom estimators in the greater Sacramento area who will turn your vision into reality.
1) Roof Options
Pacific Builders showcases a wide array of roof selections for your sunroom.
3-inch, 4-inch or 6-inch Super Insulated Roof System – At Pacific Builders, this belongs to one of the most durable sunroom roofs in the business. It is made up of foam  that is
super condensed along with an aluminum skin. For support, this roof type has
structural I-beams to withstand against snow and wind loads at maximum speed.
Gable Roof: – This type is characterized by downward sloping of the roof in two parts at an angle
from a central point. As a result, it forms a gable at one end. It is also
known as an A-frame or pitched roof.
Single-slope Roof – This is the most well-known and cost-effective roof type.
Unlike the gable roof, this has a single sloping surface. It is attached at the
building's highest point off the roof slope. Shed roof its other name.
Custom Wood Roof  – If your perfect sunroom plan consists of wood, then it
would not be a problem with Pacific Builders. Although this roof type can be
installed easily, it is more expensive than other types because of the required
materials and labor.
Existing Roof – Having a covered patio, porch, or breezeway existing in
your home you plan to enclose, Pacific Builders are able to help since all of
its enclosures can be designed and manufactured under your specific
customizations. In short, Pacific Builders can conceptualize, create,
and set up your ideal product under your existing roof.
Comfort-Gard® Glass Roof Panels – This type can be additional alternatives if you
selected a 3-inch or 6-inch insulated roof system. Aside from allowing light to
enter the roof like skylights do, these glass roof panels are manufactured to
prevent snow and ice accumulation that may possibly leak in usual skylights.
Solarium Glass Roof – Although solariums have all glass roofs, you can still
avail this option.
2) Door and Window Rolling Systems
Pacific Builders ensures that there is
an effortlessly roll of your windows and doors. So here are unique rolling
systems for both windows and doors tailor fit to each sunroom.
Triple-track with Nylon Tires – To avoid wearing out the tracks of your screen rooms,
use a triple-track system with nylon tires for easy operation. This system can
be easily upgraded to a three-season room without the need to replace the frame.
Triple-track with Ball-bearing Wheels – These ball-bearing wheels add to the ease of operation
among three-season rooms that have a triple-track system.
Monorail with Ball-bearing Wheels – For four-season vinyl rooms, this rolling system
having ball-bearing wheels in nylon tires offers easy window and door operation.
Monorail High-compression, European Ball-bearing Tires – This rolling system is for high-compression
four-season aluminum rooms that utilize European commuter trains built for high
traffic. As a result, window and door panels glide in a quiet and effortless
manner.
3) Door Handles
At Pacific Builders, door handles are
also customized to match with a specific sunroom room type.
Easy-grip Handles – This door handle type ensures effortless opening and
closing of screen rooms.
Black Aluminum Handle with Wood Accents – This is used together with three-season rooms.
Although a low-profile type, this door handle has an easy grip to facilitate
ease in opening and closing.
Color-matched Euro-style Handle –It also has an easy grip and low profile.  To
match with your door frame color, it has dual throw bolt locking system that
can be engaged or disengaged with a simple turn.
 4) Locking System
Client security is Pacific Builders'
priority. With that, here are unique locking systems for every sunroom.
Single-point Locking System – To easily lock window and door screen panels into
place, this locking system is used.
Single-point Locking System with Anti-lift Bar – It functions like the single-point locking system
but it has an anti-lift bar with it. For additional security, this bar ensures
that your window and door panels will not be lifted out of the frame or opened.
Dual-point Throw Bolt Locking System with Night Latch – This locking system works with a dual-point throw bolt plus a night latch perfect for three-season elite rooms, four-season
rooms, and solariums. Dead-bolts are not needed with this system. For
continuous room ventilation while securely locking the window and door panels,
the night latch is used.
5) Glass Options
To completely visualize your ideal
sunroom, Pacific Builders also showcases a variety of glass options for
you to choose. All of these are tempered to ensure safety.
Single-pane – This  most popular glass option is a standard for three-season rooms while providing
you with protection against the unwanted elements outside. This also allows you
to enjoy the advantages of solar heat generation.
Double-pane Insulated – Unlike the typical glass, this glass option prevents
UV ray penetration 44% more efficiently. This performs better compared to
single-pane glass in terms of heating and cooling. This comes as a standard
among solariums four-season rooms.
Comfort-Gard® PLUS High Performance – This is the most cutting-edge glass option available
since its low-e coating and argon insulating gas keep you warmer in the winter
and reduce your cooling costs by as much as 25% in the summer.
Glass Tint – For single-pane, double-pane, or Comfort-Gard® PLUS
high-performance glass, this bronze glass tint can be used. This tint offers
shading and UV protection while reducing solar heat gain.
6) Framing
Frames of Pacific Builders are made up of either extruded aluminum or vinyl with aluminum or steel reinforcement. These frames hold your glass or screen panels in
place.
Aluminum Sunrooms – Aluminum can resist against extreme humidity and
temperature scales. It is one of the strongest materials available as well. So
rust, warp, or rot cannot easily destroy the frame. Pacific Builders' aluminum
comes in varying thicknesses depending upon the sunroom type being chosen.
Thermally-engineered aluminum frames of its four-season rooms efficiently heat and cool the home all throughout the year. All sunroom options can be framed
with aluminum that may be white, sand stone, or bronze.
Vinyl Sunrooms – To be structurally sturdy and qualified by the local and
national building laws, vinyl extrusions of Pacific Builders are backed up with
a frame of aluminum or steel on the inner portion. This type is easy to clean
and rarely shows any evidences of wear and tear, so it continues to look new
through the years. This type is only available in four-season rooms. Vinyl
frames may appear in white or sandstone color.
Why Choose Pacific Builders?
With the information you've previously
read, you are now ready to start carrying out your sunroom installation plan.
As sunroom experts, Pacific Builders not only cover sunroom installation
but also deal with designing, manufacturing, and
guaranteeing quality product and customer service. If
you seek an all-around company that gives you the freedom to customize and
design your sunroom or porch enclosure, contact Pacific Builders.
Effectively plan your ideal sunroom
now. Schedule your in-home estimate online
for free or call us!