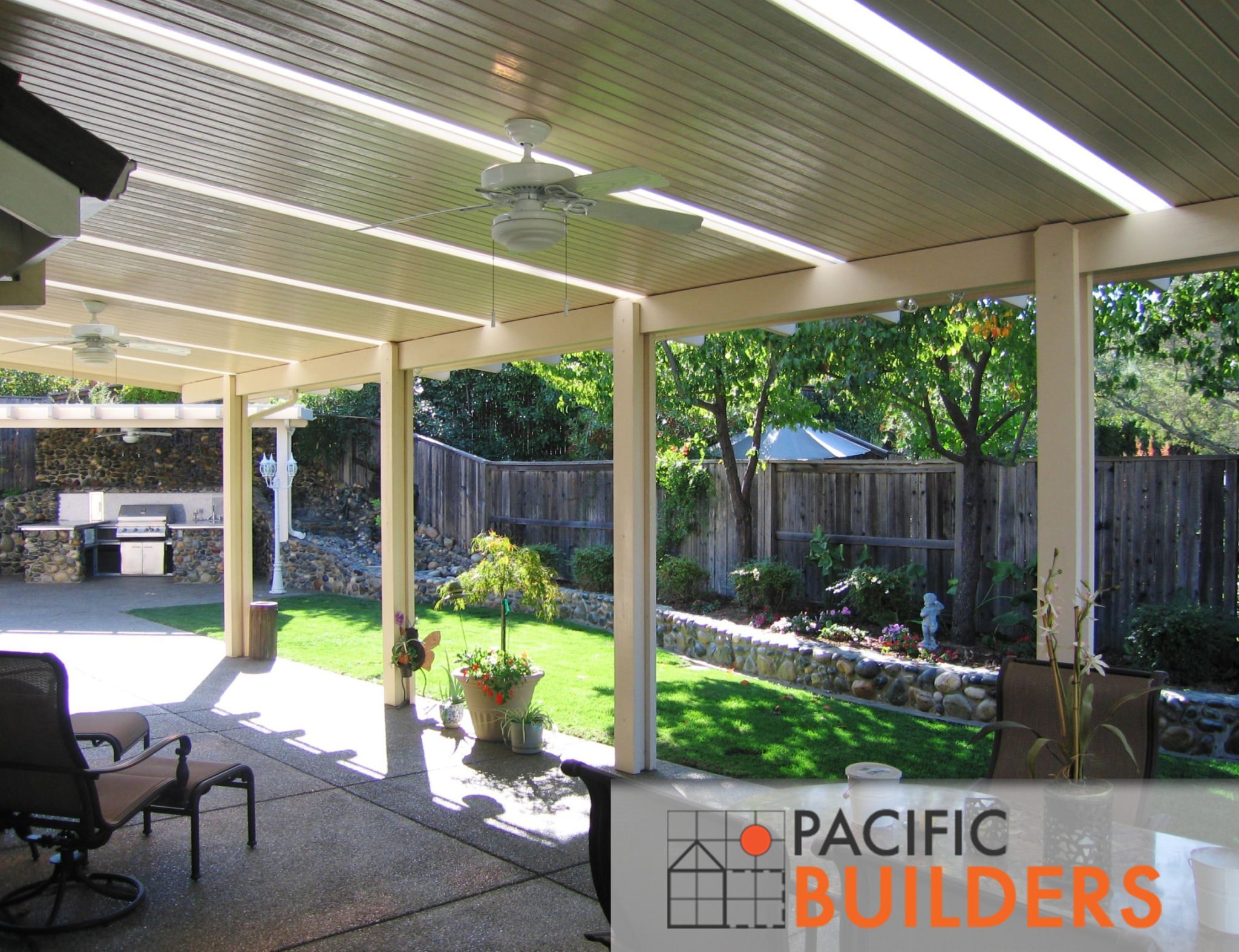 There are countless good reasons to add a cover to your patio. One of the top benefits of this popular home upgrade is that it can add to the property value.
Patio covers also offer great functional benefits as the cover gives extra shade specifically if the back of the home sits in direct sun for most of the day. These structures also keep the house cooler in the summer, in this case because it keeps the sun from beating directly in your windows which heats up your home during most of the year, specifically summertime.
Another benefit of a covered patio is that when it is raining you can sit outside and enjoy a beautiful rainy day without getting wet. Sitting outside where there is a breeze while it rains can be an extremely relaxing experience.
Having a covered patio allows you to enjoy all the seasons of the year without being directly impacted by the sun. It offers a great option for shelter if one wants to do something as simple as enjoy a peaceful meal on the patio or something as elaborate as a party. These are just a few of the great benefits of a covered patio
It is incredibly relaxing to be able to just sit outdoors in the spring or fall and enjoy the fresh air outdoors here in Sacramento. This setting perfectly sets the mood to enjoy a great book, listen to your favorite music, or just reflect and take full advantage of the delta breeze. On these days you can get just enough free light with the perfect amount of shade to keep you comfortable enough to see the pages of your book or tablet without the  glare of the sun.
On rainy days it is nice to sit outside and just enjoy the smell of wet grass and other pleasant outdoor smells and sounds that come naturally on a rainy day. During this time of the year it is nice to bundle up with your favorite hot beverage and just sit on the patio and enjoy the crisp air in the winter while watching the wildlife go about their day. There are countless additional reasons that you might  be able to think of that are benefits of a covered patio and I am sure that we will be touching on this topic again as the seasons change, until then if you have questions about patio covers give us a call today.
Pacific builders: Proudly serving the greater Sacramento area since 1947.
Call Us Today (916) 383-3168